Welcome, gardening fans. This is my first attempt to write. I know you will excuse my literary prose and hope I can help your gardening efforts by sharing my 60 years of experience with you.

Let's start off with some basics and follow the seasons in future columns.

If you haven't pruned your roses, fruit trees and grapes yet, it is not too late -- but do it now. The most important spray now is the dormant oil and copper spray. If no other spray is used, this one is important to control many insects and kinds of fungus. Drench the tree or bush to run off, so the solution permeates crevices in the bark.

This will control, but not eliminate, shothole, brown rot, peach leaf curl and other diseases. Spray fall and spring and after rains. Use the same procedure for roses.

This is also the time to clean up last year's growth in the garden and roto till the ground so the winter rains can leach out the salts accumulated from last year's irrigation water and fertilizer. There is still time to plant bare root roses and trees. Our local nurseries still have good selections.

If you raise your own vegetable plants from seed, now is the time to purchase those varieties that the nurseries don't carry. Start your seeds in flats around the first of March.

Have your garden ready around the middle of April to the first of May to transplant from the flats. Many times the late May plantings will out-perform the earlier plantings as the soil has warmed.

Last year I planted a second crop of six tomato plants on Aug. 10. I picked my last tomatoes on Feb. 5. I had to cover my plants with a tarp and use a heat lamp placed under the tarp when frost was predicted.

This is another advantage in starting your plants from seed. Where can you buy tomato plants in August?

I hope to have several garden tours to answer your questions and show you how to do what I write about (I talk better than I write.).

Coming Articles: How to cut your irrigation bill in half. How to control insects without any sprays. Photos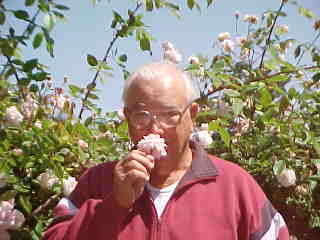 Always stop and smell the roses in Life.
[article 2] [article 3] [article 4] [article 5] [article 6] [Article 7]