Lompoc the City of Murals
The 18 mile drive from the 101 on Highway 246 to Lompoc to view these murals on the sides of the buildings of the downtown area is definetly worth the time. It is easy to ride through the town and see them and a complete delight. If you are into walking they are all concentrated in a walking area with a few finding the outskirts of town. I highly recommend this as an activity. While visitng in Lompoc you might enjoy stopping at the RivenRock Gardens and thanking them for the photos that are on this page and the connecting page.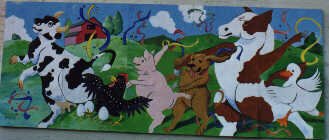 This valley has a long and varied history of animal husbandry and country life. Here we see an example of how the animals of the valley are often anthromorphised. Although the main agricultural activities center around plant crops there is some really good beef that comes from this valley, and a massive chicken egg farm in the next valley.
---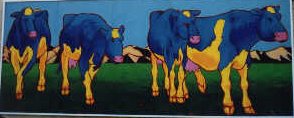 Yes folks, we really do have purple cows in this valley. They have been commonly seen on Friday nights since the Temperance colony ended. They are often found in the company of pink elephants.
---
[mural1] [mural 2] [mural 2x] [mural 3] [mural 4] [mural 5]