Welcome to Solvang CA.
" Velkommen"

in Danish.
(No passport needed to visit the little Danish replica village.)
The gentle rolling hills, windmills, quiet streets, horse drawn carriages, family bicycles, golf courses, horse ranches, wineries, Danish bakeries, authentic Danish costumes worn by some shop keepers, Danish smorgasbord restaurant, museums, and Solvang history, in the Danish atmosphere and architecture are waiting for you. Car and Motorcycle Museum.
We welcome your visit to SolvangCA!
Book on line - Place to stay overnight.
May we offer you lodging for your stay in Solvang

or

to book a room on line.
Set your GPS to
Solvang, CA 93463,
1683Copenhagen Drive Lodging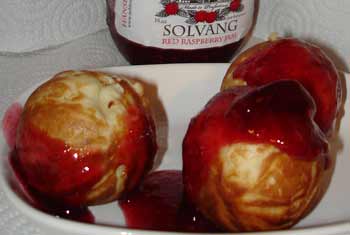 Look Good?
How to make aeblesiver video.
Order Chef Arne's Pan, Mix, Raspberry Jam
Arne Hansen book:
"A Glimpse In Time From Solvang Restaurant"